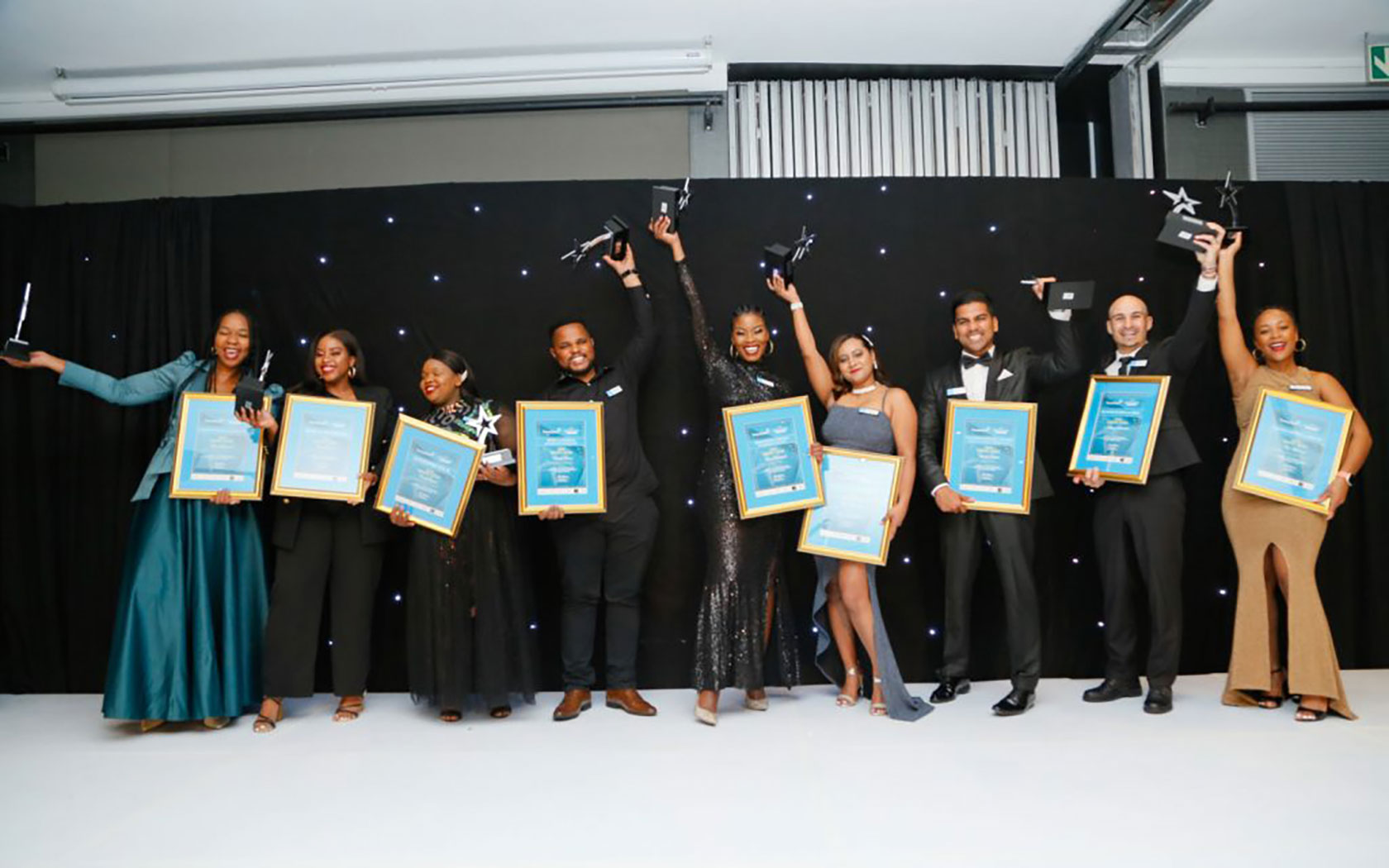 The 11th Annual TransUnion Rising Star Awards Winners have been revealed

The Rising Stars of 2022 (above): Zukiswa Quagraine (Empact Group), Palesa Kogela (M&C Saatchi Abel), Pretty Kubyane (Coronet Blockchain), Sephela Makete Thema (Sibanye Stillwater), Daisy Thobakgale (Accenture), Falon Doorasamy (SmartMatta), Vershen Naidoo (Takealot), Anthony Antoniadou (BMW), Farai Mubaiwa (Youth Employment Service).
Bringing together industry leaders and representatives from across corporate South Africa, as well as over 50 judges and 55 young people from 11 different industry sectors, the TransUnion Rising Star Awards have once again identified the most talented young leaders this country has to offer.
In these tumultuous times, recognition of those who contribute in a meaningful way to the economy is more critical than ever, and the TransUnion Rising Star Awards play a very important part in this endeavour.
The 11th Annual TransUnion Rising Star Awards took place on 20 October at the Maslow Hotel, Sandton, and was a true collection of South Africa's finest young professionals aged 40 and under. Supported not only by TransUnion, but also Accenture, Absa, Gautrain, Rand Refinery, Massmart, Anglo American, DBSA, Imperial, BMW, Mercedes-Benz, Webber Wentzel and Exxaro among many others, the event was well attended by South Africa's current and future leaders.
One of the evening's many highlights was a live presentation from the recipient of the "Inspirational Leader" Award: Dr Imtiaz Sooliman, Founder of Gift of the Givers, setting the scene for a truly inspiring ceremony to follow. Dr Sooliman was a fitting choice for the Inspirational Leader Award and the room fell silent as he spoke, listening to the dynamic way Gift of the Givers have made a massive impact across the globe, not only making a difference in the lives of people but also of animals.
The theme of the evening was "Full Circle" and Laura Barker, CEO of BlackBark Productions and Founder of the Rising Star Programme, opened the event with a look back at the past 11 years, noting how the alumni recognised over the years have become the Programme's most loyal supporters.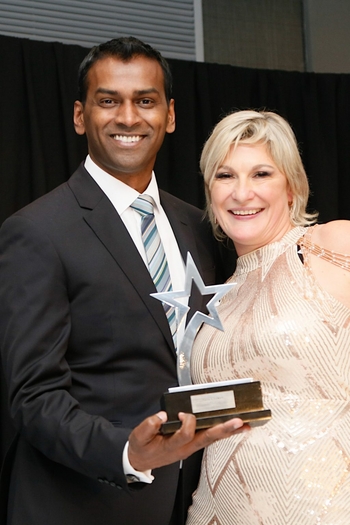 Lee Naik receiving the Pay it Forward Award from Laura Barker
She made specific reference to Lee Naik, CEO and Regional President of TransUnion, a 2015 Rising Star Winner and now leading the platinum partnership support of TransUnion. Since 2015, Naik has participated as a speaker and a judge, and now TransUnion has the incredibly important role of ensuring the future of the programme.
Another alumni Barker highlighted was Terance Nkosi, Executive Head of Compliance and SHEQ at Rand Refinery and an inaugural winner in 2012. Nkosi asserts that being recognised by the programme has positively influenced his career in so many ways, opening the doors to mentors, business opportunities, new networks and career advancement. Upon him winning in 2012, Rand Refinery featured him in their Annual Report, a memory he holds very dear.
Other alumni represented in the judging panel this year include Ravi Nadasen, winner in 2013, and current Africa CEO of Inspired Education Group; Gontse Madumo (Mondelez); Giovanni Abrahams (Imperial); Kate Moodley (Discovery); Gugu Mthembu (Telkom); Tamzin Gray (Epson); and Zimkhita Buwa (Quintica).
Barker also expressed gratitude to another business relationship with a Rising Star, Sabelo Myeni, with this partnership taking the GradStar App into the next phase, offering work readiness content for all those looking to enter the workplace.
A highlight of the evening was that one of the alumni from the sister programme GradStar, recognising the country's most employable tertiary level students, not only entered the Rising Star Awards but won the Professional Services Award — a fitting tribute to the Full Circle Theme. Daisy Thobakgale was recognised as a GradStar Top 100 student in both 2017 and 2018 before her triumph at this year's Rising Star Awards.
To round the evening off, Barker presented three "Pay It Forward" Awards, acknowledging and thanking three Stars who have tirelessly contributed to the advancement of the programme: Naik, Nkosi and Gontse Madumo.
Key elements of the evening – the Rising Stars of 2022
Using the below criteria, over 800 successful young people were assessed, resulting in the winners announced below. Judges included: Hans Zachar (Vice-President Solutions Africa, TransUnion); Yershen Pillay (CEO, CHIETA); Hennie Heymans (CEO, DHL Express SSA); Keshnie Martin (HR Lead, Africa, Accenture); Avanthi Maharaj (Market HR Cluster Head, Google in Africa); Tshepo Kgobe, (COO, Gautrain Management Agency); Gugu Mkhize, (CEO, INSETA); Nokuthula Selamolela, (CEO, FOODBEV Seta); Bontle Lerumo, (CEO, PSETA); Dr Jerry Gule (CEO, IPM); Xolani Mawande (CEO, SABPP); and Kgatile Nkala (Executive Manager, TETA).
The candidates had to undergo a rigorous and transparent judging process comprising a self-assessment, a video interview and then finally, a two-hour interview in person in front of the panel of judges. A full list of judges can be found at: https://awards.risingstar.co.za/judges-2022/
Throughout the entire process, the judges had referred to the below leadership criteria, with the direction that they were looking to identify a leader who, demonstrating the listed characteristics, would lead no matter what industry they found themselves in:
Vision and Ability to Innovate
Agility in Uncertainty (encompassing Digital Transformation Systems)
Thinking and Sense Making
Responsible Engagement
Passion and Impact.
"We are delighted to have so many entries from across the country, identifying such a broad range of talent from both the corporate and public sector," said Barker. "It is encouraging to see these awards grow year-on-year, as it means our goal of recognising and developing talent is real, especially in these extraordinary times."
Naik said supporting rising talent is an integral part of TransUnion's core philosophy. "It's increasingly important that we, as part of the business community, initiate conversations about what leaders and organisations must do to attract, develop and retain top talent. With these young people as our future, we have no doubt South Africa is in safe hands," he said.
"The Rising Star Awards don't just align to our shared imperatives of growing talent and driving greater diversity, equity and inclusion. They're a critical building block in exercising and accelerating our continent's talent potential. Almost 60% of Africa's population is under the age of 25 — offering an incredible source of exceptional and motivated talent for companies that embrace globalism and the significant opportunities made possible by a diverse workforce."
TransUnion Rising Star Awards are proudly supported by:
The 11th Annual TransUnion Rising Star Awards are proudly supported by TransUnion, Accenture, Rand Refinery, Absa, and Gautrain Management Agency.
For more information, please visit www.risingstarawards.co.za or contact This email address is being protected from spambots. You need JavaScript enabled to view it. for details on how to get involved in the Rising Star Programme. Entries are open to all young professionals in the workplace aged 40 years and under; 2023 entries open in January. Follow Rising Star SA on social media for all updates.
As referred to above, the founders of Rising Star also operate a similar recognition programme for the most employable tertiary students. Details can be found at www.gradstar.com or if you are a student yourself, you can download the GradStar App for free from your app store to connect with other students, match with potential employers and enter the 2023 DHL GradStar Awards.
2022 TransUnion Rising Star Awards winners
Inspirational Leader
Dr Imtiaz Sooliman, Founder, Gift of the Givers
Pay it Forward
Lee Naik, CEO & Regional President, TransUnion
Terance Nkosi, Executive Head, Compliance & SHEQ, Rand Refinery
Gontse Madumo, Talent Attraction Specialist, Mondelez International
Banking & Financial Services. Proudly supported by TransUnion
Triya Govender, Head of Marketing, Floatpays
Energy & Environment
Falon Doorasamy, ZTL Manager (KZN), SmartMatta
Entrepreneur
Pretty Kubyane, Co-Founder, Coronet Blockchain
ICT (Telecoms & Technology). Proudly supported by Absa
Pila Booi, Partner Sales Manager for Sub-Saharan Africa, Nokia South Africa
Manufacturing & FMCG
Anthony Antoniadou, Dealer & Online Channel Specialist, BMW
Media & Advertising
Palesa Kogela, Group Account Director, M&C Saatchi Abel
Mining & Minerals.
Proudly supported by Rand Refinery
Sephela Makete Thema, Manager Operations, Sibanye Stillwater
Professional Services. Proudly Supported by Accenture
Daisy Thobakgale, Technology Delivery Lead Specialist, Accenture (2017 & 2018 GradStar Top 100)
Service: Public & Private
Farai Mubaiwa, Chief Partnerships Officer, Youth Employment Service
Tourism, Retail & Hospitality
Zukiswa Quagraine, General Manager, Empact Group
Transport, Logistics & Security. Proudly Supported by Gautrain Management Agency
Vershen Naidoo, National Risk Manager, Takealot